As you may have heard, Alex and Andrea have chapters in a forthcoming anthology from House of Leaves Publishing. Scared Sacred: Idolatry, Religion and Worship in the Horror Film is a collection of writings exploring the cultural landscape of religion in horror cinema. Bringing together leading critics, historians and writers in this field, the book includes an introduction by author and theologian Professor Douglas E. Cowan, and foreword from actor and author Doug Bradley.
Sacred Sacred is due for release early in 2019 and the crowdfunder, allowing supporters to pre-order a first edition copy of the book, is now live. The first edition run is limited to 1000 copies (the cover design will be foiled in silver), with only 100 copies of the hardback edition available (including an alternative cover foiled in copper). Each book will come with a numbered certificate. Visit https://igg.me/at/ScaredSacred/x for the full list of contributors and contents, as well as other exciting rewards!
Each chapter is also accompanied by an original illustration from John Sowder in  a beautiful Medieval woodcut style. Faculty of Horror has an exclusive preview of Alex's chapter on creeping conservatism in contemporary horror:
Onward Christian Soldiers: Eyes of the Believers in The Conjuring (2013) and The Conjuring 2 (2016)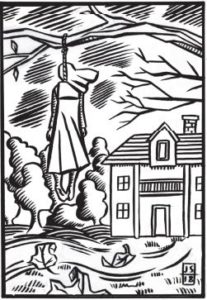 James Wan's The Conjuring (2013) and The Conjuring 2 (2016) follow fictionalized events drawn from the supposedly real adventures of Ed and Lorraine Warren, two deeply Christian figures on a mission to deliver white hetero-normative families from the clutches of certain evil. In these films, the Warrens come to represent a specific certitude: the way the American family can and should be (as evidenced by Ed and Lorraine's blissful filmic relationship). This is reflected through the Warrens' patriarchal, Christian ideals, a particular set of familial and faith-based values that serve to offer stability within the narratives of both films.
The real life Ed and Lorraine Warren have become significant figures in the paranormal community since their highly publicized involvement in the Amityville case, turned into a book by Jay Anson in 1977, and followed by the Hollywood film, The Amityville Horror (1979). Their dealings in the strange and unusual officially began in 1972, when they founded the New England Society for Psychic Research (N.E.S.P.R.). Throughout their careers, the Warrens purported to be devout Catholics and oft en claimed to work with the Catholic Church to carry out investigations and exorcisms. They claimed Ed was the only non-ordained demonologist recognized by the Catholic Church, and Lorraine was a gifted medium. According to the Warrens' official website, the N.E.S.P.R. was meant to simply investigate local hauntings, but when they accepted a case which they believed was being caused by the supposedly lost ghost of a little girl looking for her mother, Ed saw their role as not only to investigate, but also to counsel (N.E.S.P.R., n.d.). While many—if not all—of the Warren's investigations have been disproved through various sources, they still command a formidable presence in paranormal and, recently, more mainstream circles, thanks in large part to Wan's The Conjuring and The Conjuring 2. Both films present the Warrens as Catholic missionaries who save tormented families from both literal and metaphorical demons.