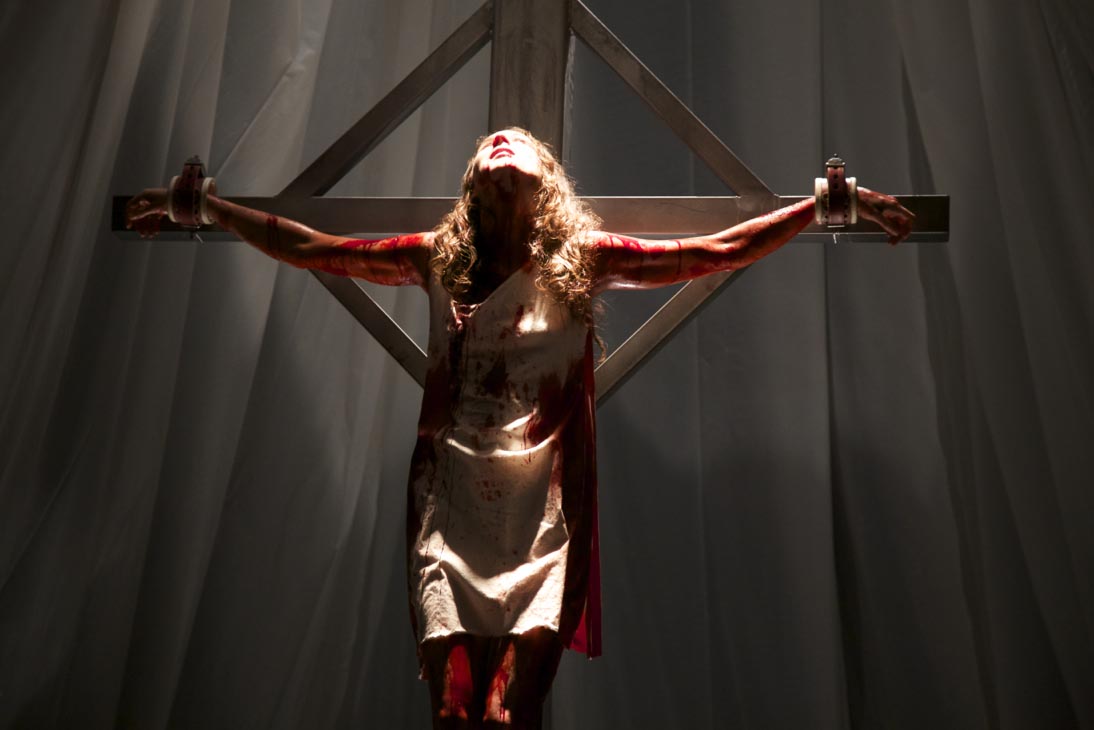 Starring Bailey Noble, Troian Bellisario and Kate Burton
Directed by Kevin and Michael Goetz
Written by Mark L. Smith
Anchor Bay Films
Admittedly, it's tough to approach a remake of a film like Martyrs with an open mind. The announcement of Kevin and Michael Goetz' remake met with some serious fan backlash online, and rightfully so;  the original 2008 film, written and directed by Pascal Laugier was not only a critical success, but a cinematic blast of such vicious violence and originality that it cemented the significance of the new French Extremity movement in horror.  Is Martyrs a wheel that needs reinventing for a subtitle-phobic American audience? You already know the answer, but let's get it on the official record.
Lucie (Ever Prishkulnik) and Anna (Elyse Cole) have been besties ever since Lucie was brought to Anna's orphanage following some severe, unexplained trauma. Anna comforts Lucie when she has nightmares, soothes her through horrific hallucinations that distort her sense of reality and quickly becomes the only one Lucie can truly trust. That trust faces the ultimate test, however, when now-adult Lucie (Bailey Noble: TV's True Blood) believes she's found her childhood tormentors and calls Anna (Troian Bellisario) for backup. Unfortunately for Anna, her efforts to help her friend only serve to ensnare them both into a horrific nightmare of captivity and abuse.
Predictably, Martyrs follows in the shallow footprints of the Americanized remakes that came before it: it's neutered, watered down and stripped of all that made the original film so iconic. The brilliant performances by the lead players? Gone. The boundary-pushing graphic violence? Nope. The philosophical mindfuck of a twist ending that continues to haunt our dreams? Nowhere to be seen. The result is a teen-friendly thriller that's so pointless, audiences unfamiliar with the original won't be interested enough in the concept to seek it out – which is perhaps its most egregious crime. Even rated on its own without comparison to its predecessor, Martyrs is a forgettable grind, making it a solid contender for the most loathed and unnecessary horror remake since 2010's A Nightmare on Elm St. If it's career martyrdom the Goetz brothers seek, they're one movie closer to accomplishing their goal.
ANDREA SUBISSATI