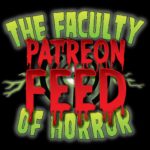 Join Alex for a commentary on the teen slasher classic,
I Know What You Did Last Summer
. Featuring a discussion of wigs, classism, star power and how an urban legend threatened to bring down a cynical generation, this commentary makes the case for July 4 becoming the Fisherman's Holiday.
Cue up the film, get some popcorn and settle in for 100 minutes of teens making terrible choices.
Right click or option-click here and choose "Save Target As"
Podcast: Play in new window | Download