Toronto based visual artist, award-winning photographer and friend to The Faculty of Horror Ashlea Wessel is about to make her mark in the world of film with her upcoming short, Ink. Merging body horror with Wessel's own unique visual style, Ink has the makings of a tantalizing and evocative short film. While Ink is still in its development stage, the project is currently seeking funding to realize the vision on screen. The Indiegogo page features videos, interviews and wide range of perks for those who are able to donate as well as a teaser description for the film.
"JOEY lives alone.  She's independent and self-reliant and her life is exactly how she's decided it should be. After a pregnancy scare, Joey marks the occasion with a new tattoo and a drunken night of forgetfulness. When Joey arrives home in the early hours of the morning, she's confronted with the truth about what she really wants, and the past that she's trying to come to terms with.  Her desires and circumstances intersect to awaken a bond between her and an ancient force; a monster from unknown depths who's mysteriously drawn to her."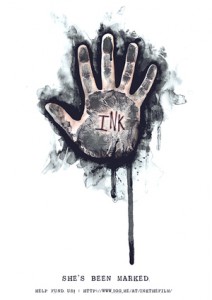 Ashlea has been a great supporter of the Faculty of Horror and we've both donated to help this exciting film get made. If you can, consider throwing in some money and if you can't swing that right now a few shares on social media are another great way to show support.  To see more and donate, visit the Ink Indiegogo page here.